These two authored works illustrates the depth of experience and expertise that the partners bring forth to any and every Tactegra client engagement.  This experience and expertise permeates to our teams as they are successfully guided by the partners through the vast maze of diverse environments and opportunities presented by our clients.
This book is a group of short stories collected over our combined 60+ years of successes in lean and six sigma, in simple business language. Some stories are real, some may not be so real, you can decide while remembering "that real life is stranger than fiction". Business all over the world is very similar, and you may find that the stories are relatable to everyday life and activities. "Six Sigma is not for us, lean works better than six sigma, six sigma is faster than lean, lean is faster than six sigma, lean takes too long, six sigma is too restrictive. "These are many other variants we have heard over the years from people from all industries and backgrounds. Are they right? You bet, in their mind, based on their experience, and feelings, they are right. That's what they know. Very likely they have suffered by some poor implementation of lean, six sigma, or both, and have seen it fail, or have been brainwashed by someone claiming to be an expert in either one, or both. But more realistically they have been hurt by a one trick pony that tried to follow a book or got trained by someone who has no real-life experience in lean or six sigma.So, if you have either embraced or rejected Lean Six Sigma, Continuous Improvement, or similar programs, you will enjoy the stories as they are from real engagements and projects, and who knows, you may see your very similar situation here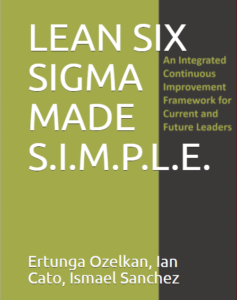 Lean Six Sigma Made S.I.M.P.L.E.
Often in our profession the phone rings and there is a recruiter on the other end explaining that he or she has a client who is looking for a Master Black Belt or an executive who is well versed in Lean, Six Sigma, or both, to join their organization. The first thing that comes to mind is do they truly know what they are getting into? So, I get truly intrigued, and I ask the recruiter a few questions which they cannot answer and therefore I say yes to a phone interview, to see if the company can answer those few questions. Next steps typically involve a phone interview with an HR representative who knows less than the recruiter, and they cannot answer the questions either. So here is a recruiter, an HR representative, and others in an organization, who are reviewing my resume with little knowledge as to exactly what they are looking for.
This experience is real. This is one of the reasons why this book is so important. Many companies, if not most of them, turn to Lean, Six Sigma or Lean Six Sigma when they have a problem or a suspicion that a problem is about to occur, or even someone may realize that there is a lack of quality in their environment.